(Sigal Chattah) – A recent Monmouth poll showed that 80 percent of people support requiring voters to show some kind of voter ID before voting, including 91 percent of Republicans, 87 percent of independents and 62 percent of Democrats.
Currently, 36 states have some form of voter ID law.  Nevada isn't one of them…yet.
Repair the Vote PAC has submitted a citizens' initiative to institute such a requirement in Nevada and is in the process of gathering enough signatures to place it on the ballot in November.
But Democrats, desperate to keep it easier to cheat, have sued to block the initiative.  The first hearing is scheduled for next week in Carson City.
I've volunteered, pro bono (free), to defend the initiative for Repair the Vote.  And for the last couple of weeks, I've been buried in research and writing the court briefs between campaign stops.
Meanwhile…
My GOP primary opponent, Tisha Black – who's been missing in action during the last two years of political war over Gov. Steve Sisolak's abuse of "emergency" powers – is doing her part on this critical issue…
Posing for photo ops.
While my nose was buried in law books preparing our case last weekend, Tish put down her cotton candy long enough to stop by the Repair the Vote booth at the Clark County Fair in Logandale and snapped a Polaroid for social media.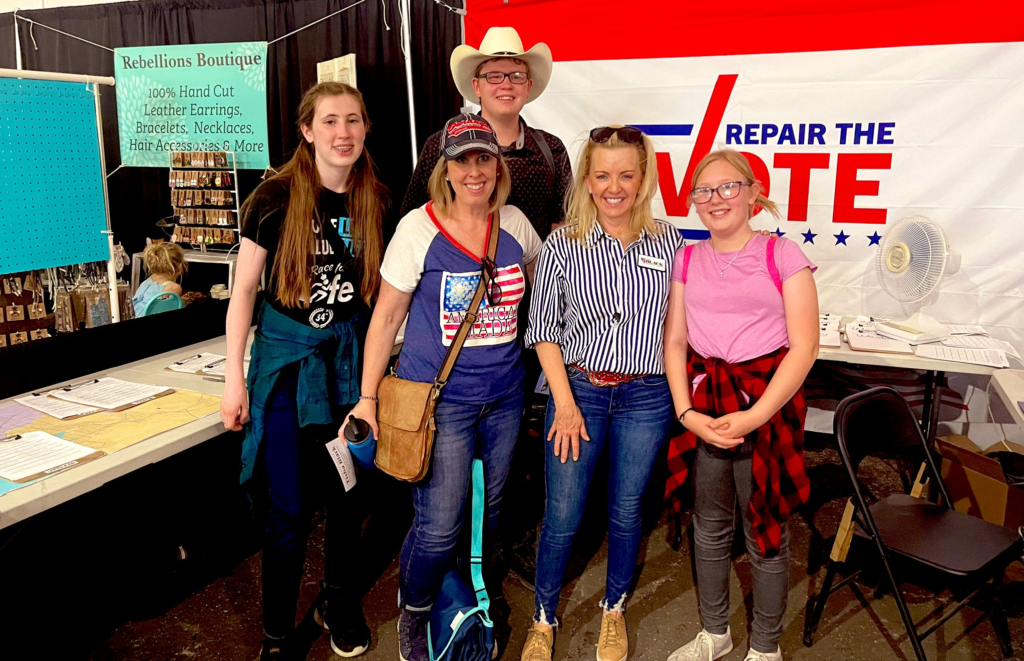 This is the difference between talking about an issue of concern to voters and actually doing something about it.  It's also par for Tisha's course.
On her campaign website, Tish writes that she understands "the wide spread damage caused by mask mandates" and claims she'll "put parents concerns and children's right to learn ahead of cruel political mandates."
Tough talk.  But no action.  Or as they say in Texas, all hat and no cattle.
For the last two years, I've successfully fought Sisolak and his Attorney General, Aaron Ford, in court over those "cruel political mandates."
We succeeded in forcing them to fully reopen our churches 10 days before Christmas in 2020, forced them to administer the COVID vaccine to high-risk citizens before giving it to young, healthy government workers in 2021, and have an open case pending on the mask mandates for kids in schools.
And I'm now fighting for election security.
As Lt. Sam Weinberg said in the movie A Few Good Men, it's the difference between paper law and trial law.
Anyone can say and write anything.  And Tish is very good at saying and writing what she thinks people want to hear.
But when the rubber meets the road, there's a big difference between talking big and actually going to court to fight on your behalf.
If Republicans want to nominate a candidate who looks sweet, takes great selfies and talks a good game but never actually plays, Tisha Black's your gal.
But if you want a candidate who's already been suiting up and slugging it out on the field with those on the left intent on stripping you of your constitutional rights, then I ask for your vote on June 14th.
Sigal
P.S. Lest ye think I'm exaggerating about Tish being a photo-op queen and "Democrat plant," here's a recent photo she posted on social media…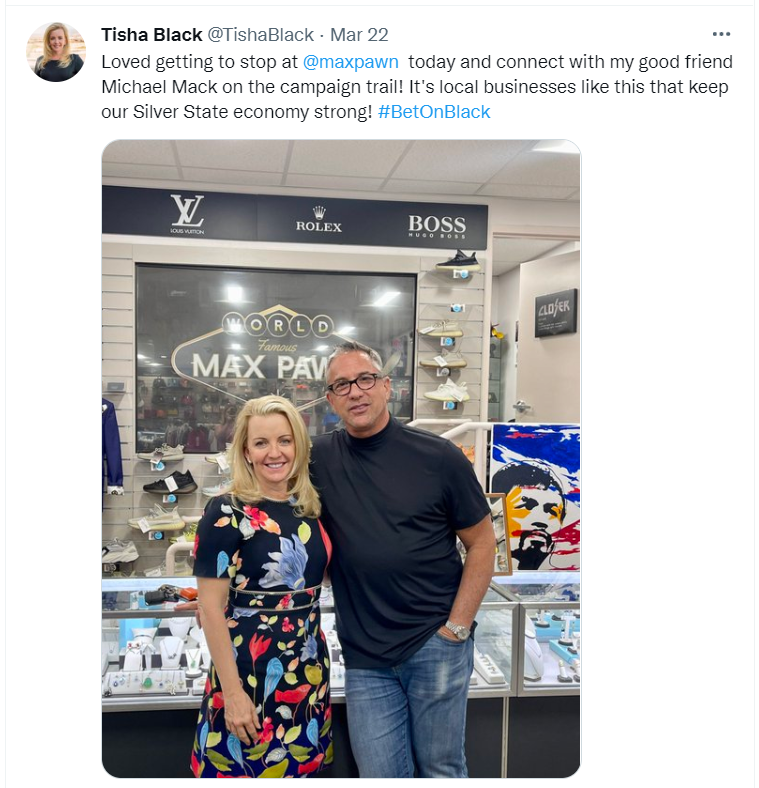 For those who may not have long memories or suffer the occasional "Biden moment," Mr. Mack is a former Democrat city councilman in Las Vegas who was forced out of office for ethical violations.
Here's how Damon Hodge of Las Vegas Weekly detailed his transgressions back in 2004…
"Accepting money from one car-dealership owner while voting to deny a competitor's application. Criminal charges. Curious business ventures, including a consulting company whose associates and clients have remained secret. A curious business alliance with one of the mayor's sons. Hired to represent a strip club in the city's jurisdiction. Using City Hall to promote family interests. His name surfaced in the G-Sting political corruption probe."
If you're known by the company your keep, Tisha Black certainly runs with some strange company.  Doesn't she know any ethical REPUBLICAN business owners she could pose with?
But again, this is par for Tisha's course.
Over the years, she's been a generous donor to various Democrat candidates – including Sen. Harry Reid, Gov. Steve Sisolak and Sen. Catherine Cortez Masto – while failing to support their GOP opponents.
That's not "business."  That's personal.
FINAL WORDS
"Who you walk with says much about who you are." – Veteran GOP strategist Richard Viguerie
Ms. Chattah is an Israeli-born Las Vegas attorney running for the Republican nomination for Nevada Attorney General