(Sigal Chattah) – Last month I noted a tweet by Tisha Black, my GOP primary opponent for Nevada Attorney General, touting her friendship with scandal-plagued "good friend Michael Mack."
As I wrote back then, "Mr. Mack is a former Democrat city councilman in Las Vegas who was forced out of office for ethical violations."  And I quoted veteran GOP strategist Richard Viguerie…
"Who you walk with says much about who you are."
Well, here we go again.  On Friday Tisha posted an endorsement from Henderson City Councilman Dan Shaw…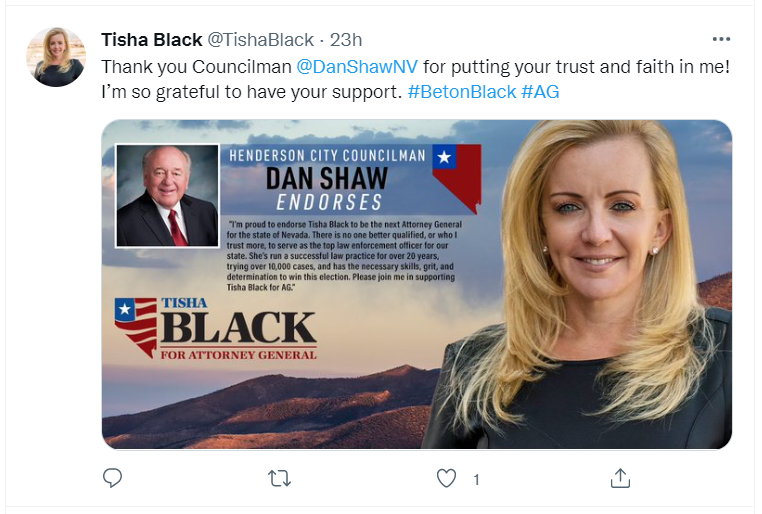 Now, if you're not familiar with Mr. Shaw, he's had some serious financial problems.  From a Las Vegas Review-Journal story in 2019…
"Henderson Councilman Dan Shaw owed the federal government millions of dollars from a failed business venture.  And he still might.  Tax records show that in 2015, the Internal Revenue Service re-filed liens against Shaw totaling nearly $2.4 million."
I guess birds of a feather really do flock together since Tisha had tax liens totaling over $2.5 million, as well!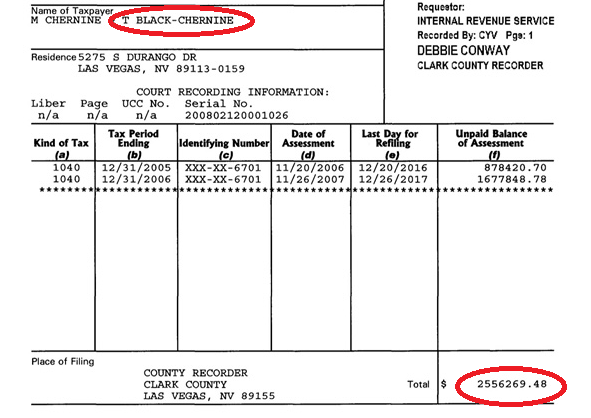 And consistent with Tisha's donations to Democrat candidates such as Harry Reid and Steve Sisolak, Mr. Shaw has donated generously to Debra March, a Democrat running this year for lieutenant governor…
As well as Democrat State Sen. Roberta Lange, who is a former teachers' union president, former Nevada Democrat Party chair, former deputy campaign manager for Harry Reid and former finance director for Dina Titus.
This is why I've been referring to Tish the Squish as a "Democrat plant."
She was put into this race at the last minute by a cabal of Carson City power-brokers and lobbyists for the sole purpose of draining my funding in the primary that otherwise would have been used in the general election against Democrat incumbent Aaron Ford.
Who you walk with does indeed say much about who you are.
Sigal
P.S.  In a recent interview with Tish, the show host raised the issue of her history of donating generously to Democrats. And the argument was made that it's OK to donate to a moderate Democrat in order to defeat a more liberal Democrat in a Democrat primary.
Valid argument…but it doesn't apply in Tish's case. She didn't donate to the "lesser of two evils" in a Democrat primary.  She donated to Democrats in general election races against REPUBLICANS.
That's a HUGE difference.
FINAL WORDS
"For more than a hundred years, we conservatives have had our political guns trained on the wrong target.  We've been focused on defeating the liberal, Big Government Democrats, when the first, and most important, roadblock to our goal of governing according to conservative principles is the progressive, Big Government Republicans." – Veteran GOP strategist Richard Viguerie
"Primary elections are more important than anything right now. It doesn't matter if you simply elect a Republican. It's about what type of Republican. Go out and vote for people who will put America first." – Greg Price, XStrategies
Sigal Chattah immigrated to Las Vegas from Israel with her family at the age of 14 and has been practicing law for nearly 20 years in Southern Nevada. Chattah prevailed in Calvary Chapel Lone Mountain v. Sisolak at the 9th Circuit Court of Appeals allowing places of worship to reopen just before Christmas. She also sued and won against Governor Sisolak and Attorney General Ford in a class-action lawsuit on behalf of senior citizens reducing the age of vaccination prioritization down to 65. Chattah is a Republican running for Nevada Attorney General. For more information, please visit sigalchattah.com