(Sigal Chattah) – Joe Hart of News 4 in Reno wrote on Thursday about what any normal person would find to be clear signs of government corruption in Nevada involving Attorney General Aaron Ford.
The issue surrounds the recent settlement related to the opioid crisis in which Ford's former law firm, Eglet Adams, somehow got the contract and pocketed nearly $5.5 million of the money intended to help victims of opioid addiction.
Mr. Hart reports that that's $2.75 million more than the firm would have received if not for a last-minute amendment to a bill in 2017 – when Ford was the Senate Majority Leader – on the afternoon of the last day of the legislative session.
Mr. Hart reports that the amendment "called for raising the fees paid to law firms the state hires in cases like opioid litigation."  And according to then-Sen. James Settelmeyer, it was "slipped in" with no public comment or input.
"That amendment was attached to Senate Bill 69," Mr. Hart reports; a bill that "called for changes in state licensing requirements and had nothing to do with lawyers' fees."
In addition, no one could tell Mr. Hart who actually introduced the amendment.  The record only shows the author as "conference committee."
And even though minutes are required for conference committee meetings, "LCB (Legislative Counsel Bureau) Director Brenda Erdoes refuses to explain why there are no records in this particular case."
"Attorney General Ford," Mr. Hart continued, "who called the shots as Majority Leader in the Senate in 2017, tells News 4 he did not introduce the amendment.  But once again, there's no record."
Yes, I'm sure it's just a "coincidence" that there's no records for a last-minute amendment to an unrelated bill on the afternoon of the last day of the session which resulted in Mr. Ford's old law firm pocketing $5.5 million.
And I'm sure it's also a coincidence that, according to the Nevada Secretary of State's website, that same law firm and various affiliates have donated almost $50,000 to Mr. Ford's campaigns over the last dozen years.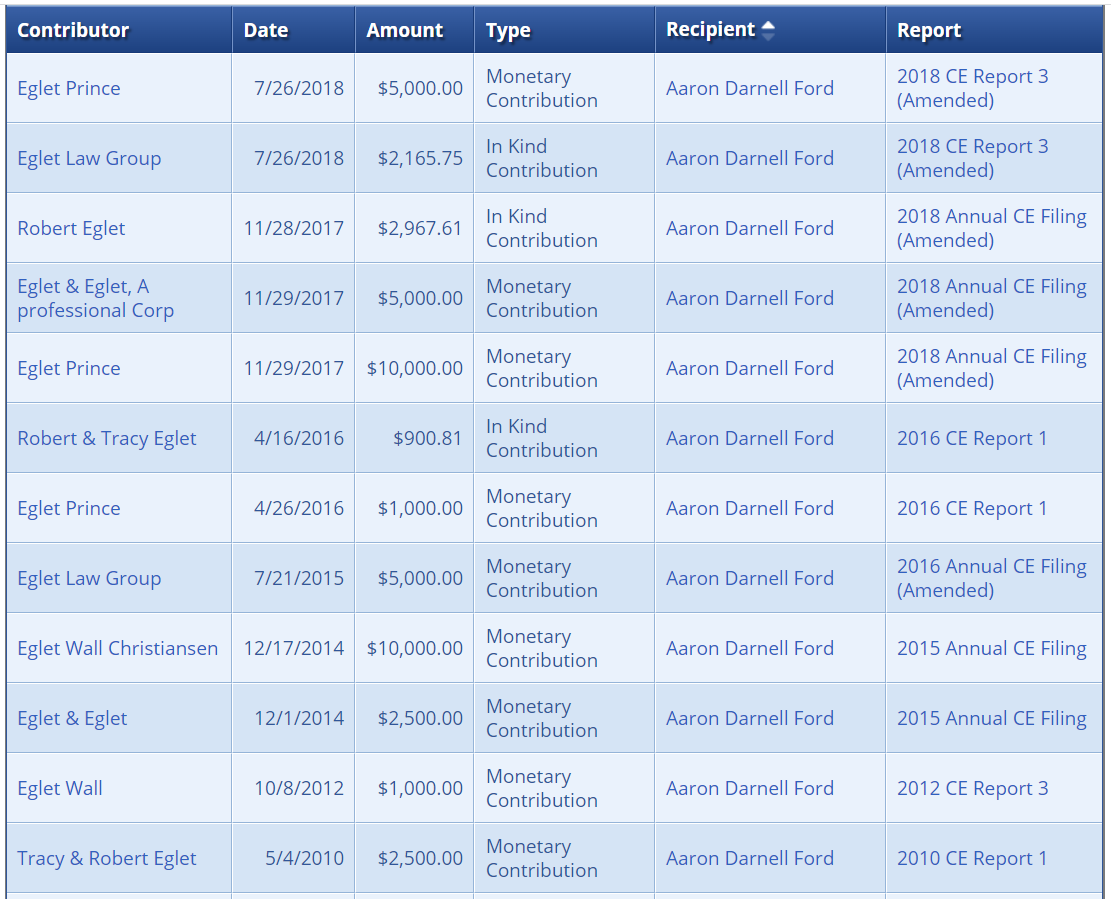 That's one hell of a return on investment!
But the big question is why Mr. Ford – whose office already has over 100 lawyers working for it at taxpayer expense – decided to hire an outside law firm in the first place, especially since Nevada was piggybacking on lawsuits already filed by a number of other states.
This was essentially a copy-and-paste operation for which Mr. Ford's former law firm siphoned off $5.5 million from opioid addiction victims.
This whole thing stinks on ice!
"My job," Mr. Ford declared in a post-election interview in November 2018, "is to look out for Nevada families first."
He sure didn't do that in this instance.  Instead, he looked out for his former employer first.
And after I win the Republican primary for attorney general on June 14, you can bet we're going to be demanding answers from Mr. Ford.  Nevada taxpayers, families and opioid victims deserve some.
Sigal
FINAL WORDS
"Primary elections are more important than anything right now. It doesn't matter if you simply elect a Republican. It's about what type of Republican. Go out and vote for people who will put America first." – Greg Price, XStrategies
"Conservatives need to unite behind the most effective anti-Republican-establishment candidate." – Veteran conservative strategist Richard Viguerie
Sigal Chattah immigrated to Las Vegas from Israel with her family at the age of 14 and has been practicing law for nearly 20 years in Southern Nevada. Chattah prevailed in Calvary Chapel Lone Mountain v. Sisolak at the 9th Circuit Court of Appeals allowing places of worship to reopen just before Christmas. She also sued and won against Governor Sisolak and Attorney General Ford in a class-action lawsuit on behalf of senior citizens reducing the age of vaccination prioritization down to 65. Chattah is a Republican running for Nevada Attorney General.