(Sigal Chattah) – Democrats across the country have been waging a scorched-earth war on parents with kids in public schools ever since Joe Biden entered the White House.
His Department of "Justice" has even labeled parents who object to school policies and curriculum as "domestic terrorists."
But parents aren't taking it lying down.
In fact, a "Mama Bear" movement of mothers fighting to protect their "cubs" has spread nationwide.  They've become even MORE active and vocal in fighting back – including some who are running for (and winning!) school board seats themselves.
And Nevada is no exception.  Get this report from the Power2Parent Union (P2P)…
"April 2022, a CCSD (Clark County School District) high school student was assigned a monologue by her teacher that contained pornographic material.  The initial assignment was student-generated, but the teacher reviewed and edited it before handing it out to the student."
Now, before sharing with you exactly what the monologue was that the student was assigned to memorize and recite, BE WARNED, it is of a sexually explicit nature.  Here goes (bad grammar in the original) …
"I don't love you.  It's not you it's just (looks down) I don't like your dick or any dick in that case.  I cheated Joe.  We were long-distance and I'm in college and me and this girl my roommate started having some drinks and you know.
"I thought it was a one-time thing but then we started going out to coffee, and started sleeping in the same bed, I never thought it would get this far but God it was like fireworks, and it made me realize with you it was always like a pencil sharpener that keeps getting jammed.
"I've tried to look at it from all different perspectives but the truth is I'm a fucking lesbian.  I'll never love you, or any man, or any fucking dick.  I hope you find a nice straight girl because that's not me, and I'm tired of pretending it is."
Wow.
But believe it or not, it gets worse…
The "Mama Bear" of the student who received this assignment attempted to raise the issue at the May 12th school board meeting.  P2P reports that the mom "was ridiculed and called a liar during her testimony" when she tried to read the assignment to board members.
Worse, P2P reports that Trustee Evelyn Morales then cut off her mic in mid-presentation and "chided the mom for using profanity in a public meeting."
To which the mom replied…
"Why should my daughter be made to memorize and act out this pornographic monologue in front of peers, but I cannot share it in a public meeting?"
Exactly!
As Erin Phillips, President of Power2Parent, put it…
"Parents have the right to advocate for their children without fear of repercussions.  Activist teachers who are blinded by their own ideology and have lost the ability to judge what is appropriate for children have no business being in the classroom with minors."
And I would include this teacher who took to the mic after the Mama Bear was shut down and actually said the following…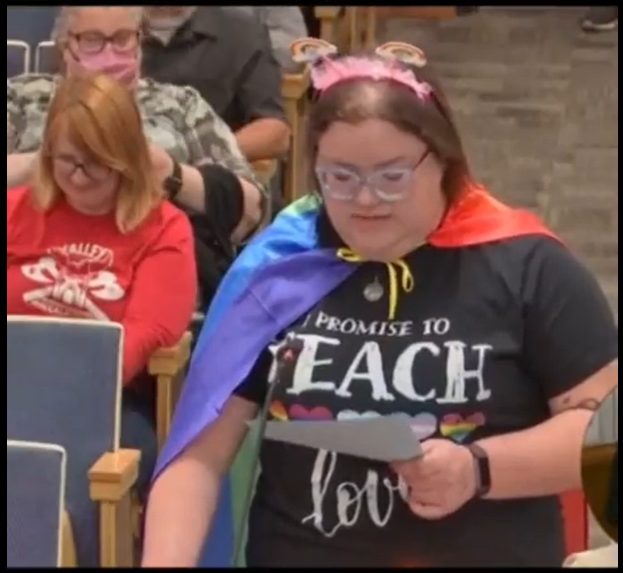 "I think we need to look at who is coming and speaking against teachers at these
meetings who think because they have kids that they're an educational expert."
Unbelievable.
These people think just because they've been hired to work in a classroom that they should be above scrutiny and criticism for what they decide to teach our kids without our knowledge, let alone approval.
And it sure as hell doesn't take an "educational expert" to know the assignment in question is wholly inappropriate to be taught in a public school classroom.  All it takes is an ounce of common sense.
This is exactly the same attitude I faced from CCSD and Gov. Sisolak when Joey Gilbert and I sued the school district last year over their mask mandate for students.
Their position was this: Parents have no rights in schools once they drop their kids off.
Unlike my GOP primary opponent, I'm fighting this in court.  And I will continue fighting this anti-parent mindset as your next Attorney General.
Before closing, I want to applaud the Clark County "Mama Bear" who summoned up the courage to make this classroom assignment public and suffered the slings and arrows for daring to challenge it at that school board meeting.
And thank you Erin Phillips of Power2Parent for bringing this story to the public's attention and lending this concerned mother support.  Hopefully, some heads will roll.
THE LAST WORD
"Like it or not, restrictions on speech are never the answer, even if that speech makes you angry, afraid, hurts your feelings, offends your sensibilities or is manufactured in a Russian troll farm." – Steve Sebelius, Las Vegas Review-Journal, 5/15/22
Sigal Chattah immigrated to Las Vegas from Israel with her family at the age of 14 and has been practicing law for nearly 20 years in Southern Nevada. Chattah prevailed in Calvary Chapel Lone Mountain v. Sisolak at the 9th Circuit Court of Appeals allowing places of worship to reopen just before Christmas. She also sued and won against Governor Sisolak and Attorney General Ford in a class-action lawsuit on behalf of senior citizens reducing the age of vaccination prioritization down to 65. Chattah is a Republican running for Nevada Attorney General.